Canberra has continued its reputation as a bikie holiday hotspot after a Nomads Outlaw Motorcycle Club gathering at the weekend.
Convicted killer and Nomads life member Mouhammed 'Moudi' Tajjour posted an image to his Instagram account on Sunday of dozens of patched bikies posing arm-in-arm on Mount Ainslie.
Senior Canberra bikie Michael Clark – who is the Nomads ACT chapter president – can be seen with his arm around Mr Tajjour in the middle of the snap.
A video, posted to the same account, shows Nomads members smiling and laughing at a Canberra cafe.
Nomads OMCG members pose for pictures on Mount Ainslie during a meeting in Canberra over the weekend.
Photo: Instragram: Moudi Tajjour
The image, with a vista overlooking the Parliamentary Triangle, included a caption that said: "today was a beautiful day … will say I still had a ball with the rest [sic] off the brothers".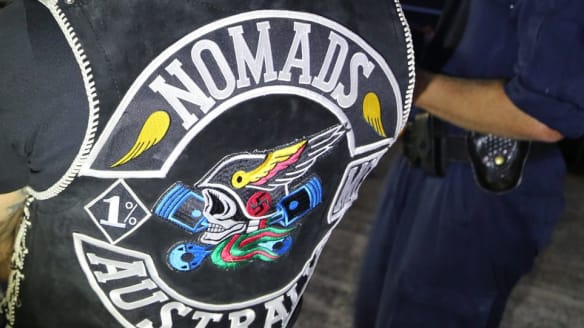 "only time I am at peace with life is when I am out riding with da boyzzzz NFFN MC WORLD WIDE."
The Nomads first established a chapter in the territory after a group of senior southside Rebels patched over in 2016.
ACT Policing confirmed about 30 men wearing Nomads colours conducted a ride in the ACT on Saturday.
However, ACT Policing refused to answer questions on whether its bikie-busting unit, Taskforce Nemesis, conducted any operations in response.
The Nomads visit appears to have been incident free as police also declined to provide information on disturbances or charges linked to the bikies' presence.
The capital has hosted a number of OMCG national runs in recent years as a result of anti-consorting laws in NSW, Victoria, and Queensland.
Bikies' behaviour in Canberra recently attracted national headlines after footage of a wild bikie brawl at a Fyshwick strip club was caught on camera.
The ACT Opposition swooped on the Nomads recent visit, using it to renew calls to follow other jurisdictions in introducing anti-consorting laws to target bikies in the territory.
Opposition Attorney-General Jeremy Hanson said: "The lack of anti-consorting laws in the ACT has led to a bikie safe haven; a four-fold increase in bikie gangs and a violent bikie war in our suburbs."
"Without these laws, it is just a matter of time before someone is killed."
The ACT government has repeatedly ruled out introducing anti-consorting laws over concerns the measures could be incompatible with human rights legislation.
The government has instead opted to introduce legislation that has given police greater search powers, as well as anti-fortification laws and laws relating to unexplained wealth.
A Canberra Liberals bill to create a new control order regime to limit activities between members of criminal organisations in the ACT was voted down in the ACT Legislative Assembly in November.
Source: canberratimes.com.au