Eleven men have been arrested in a dramatic police operation after a former bikie was allegedly the victim of a targeted kidnapping and ransom attempt.
Police were called to a home in Bringelly in south-west Sydney at 3am on Tuesday after receiving reports Dillan Mancuso, 37, had been abducted by an armed group of men who also assaulted his 61-year-old father at the property.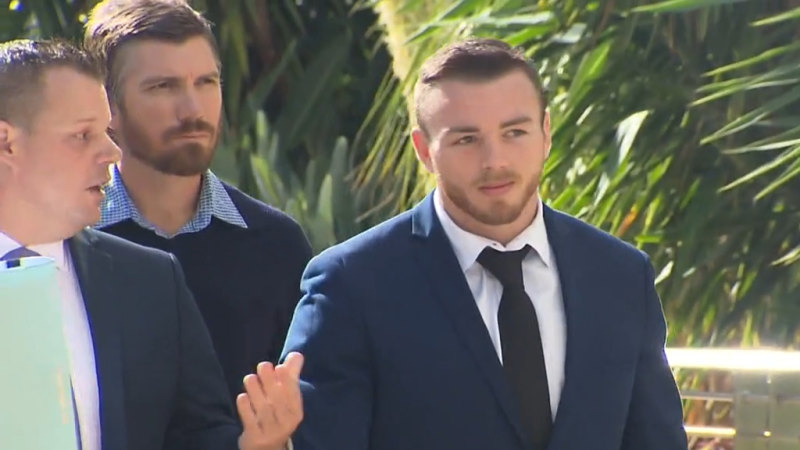 Robbery and Serious Crime Squad detectives have arrested 11 men after a man was allegedly kidnapped during a home invasion in Sydney's south-west.
Mr Mancuso's father, sporting two black eyes, told Nine News he "heard a big bang" and the door of the family home had been kicked in.
"I got up, I turned the light on, I see these two big fellas walking in," he said.
"I said 'What's going on, fellas? What's going on? You've got the wrong place.' The one that was holding me said 'Don't look, and don't tell the police'."
A crime scene was established by local police before detectives from NSW Police state crime command's robbery and serious crime squad took over.
Mr Mancuso, previously linked to the Lone Wolf bikie gang and once a Perth resident, was allegedly forced into a vehicle and ended up at an industrial estate on Marigold Street in Revesby.
Following inquiries, detectives and heavily armed tactical officers descended on the warehouse and had secured the man's release by the afternoon after negotiations with the alleged kidnappers.
He was taken to hospital suffering from severe but not life-threatening injuries to his head, face and ribs.
A fire was then allegedly started by the group inside the warehouse and eight men were arrested by tactical police.
A further three men were arrested when they arrived at the property in another vehicle.
Footage of some arrests, seemingly captured by a witness and circulated online, shows the dramatic events unfolding at about 1pm.
Heavily armed officers can be seen detaining multiple men as more police vehicles, including an armoured truck, arrive.
Detective Superintendent Andrew Koutsoufis, robbery and serious crime squad commander, said the incident was "exceptionally dangerous" because of the violence used by the alleged offenders
.
Senior police address the media after 11 men were arrested following the alleged kidnapping of a man during a home invasion in Sydney's south-west overnight.
He said police inquiries were only in their infancy but investigators believe the alleged kidnapping was targeted and linked to organised crime.
"At this stage it appears there are some organised crime and bikie-related links," he said.
One line of inquiry being examined by investigators is that the alleged kidnappers were seeking to secure a large payout in return for Mr Mancuso's release.
One of the men arrested during the operation was armed with a gun.
Mr Mancuso's father allegedly assaulted at Bringelly sustained minor injuries and was treated by NSW Ambulance paramedics.
Fire and Rescue NSW extinguished the blaze in Revesby about 2pm and handed the scene over to police.
Four of the 11 men were taken to hospital for treatment of minor injuries.
The rest were taken to Liverpool and Bankstown police stations and charges are expected to be laid.
Detective Superintendent Koutsoufis said it was too early to say what the charges would be.
Location: Australia
Source: smh