The current world president of the Finks bikie gang says he is a reformed stay-at-home dad after pleading guilty to assaulting a man outside a Melbourne strip club.
Father-of-two Kosh Radford, also known as Koshan Rashidi, fronted Melbourne Magistrates Court on Thursday charged over his role in the 2019 King Street attack.
Magistrate Tim Bourke questioned the 43-year-old's description of himself as a family man.
"You moved to Victoria by the sound of it to start a new life," he told Radford. "Maybe a family man would not find themselves at a nightclub at 6.30am."
The court heard Radford – the patched world president of outlaw motorcycle gang the Finks – had been celebrating a friend's birthday at Centrefold Lounge with a group of friends, including two younger brothers, when they went to leave about 6.30am on March 24, 2019.
As they left, the court heard, they were approached by two men who struck up a conversation with the group before Radford punched one of them in the head in an "unprovoked" attack.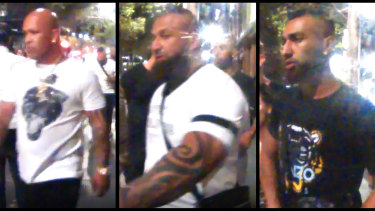 Others in Radford's group then continued the attack inside the venue.
Security footage of the incident showed patrons inside fleeing for safety, including a scantily clad employee and customer who had been in a private booth together.
Police prosecutor Tim Spiteri argued Radford should be sentenced to a community corrections order, listing his history of prior crimes which included assault convictions in NSW and Queensland, and calling the Melbourne assault an unprovoked and cowardly attack by the "world president" of the Finks outlaw motorcycle gang.
Defence lawyer Zyg Zayler said his client moved to Melbourne six years ago for a quiet life and during the past four years had not had any issues with the authorities.
"We don't say he was physically provoked, but felt he was being menaced for being recognised for who he was," Mr Zayler said.
"He lost it. He greatly regrets it. He just wants to get on with his life and be a home dad."
In sentencing, Mr Bourke labelled the assault as "thuggery" and said a man like Radford should've known when a punch was thrown outside a nightclub at 6.30am, the odds were it would escalate.
"You should've understood by virtue of your prior history and your background [and] connections to outlaw motorcycle gangs. It is simply thuggery," Mr Bourke said.
"Simply ask yourself this Mr Radford, if you are truly a family man and a good father, what are you doing out at that time of the night in the first place?
"Question yourself just how much of a father, a partner, you are to your family because that sort of behaviour is generally not what family men do."
Radford pleaded guilty to a single count of common law assault and was convicted and fined $6000.
The court heard others involved in the attack had been previously prosecuted over the 2019 incident. Radford's younger brothers Ahmad Rashidi and Jamshed Rashidi were convicted and fined $10,000 and $12,000 respectively.