An alleged senior bikie can keep his Harley-Davidson motorbike but will be prevented from using a range of encrypted messaging apps and talking to members of the Comanchero gang under a sweeping court order imposed on Wednesday.
Ali Bazzi, previously known to be a high-ranking Comanchero, consented to the serious crime prevention order in the Supreme Court following a compromise on the conditions and his insistence to NSW Police he has moved on in life and is not an active member in the outlaw motorcycle gang.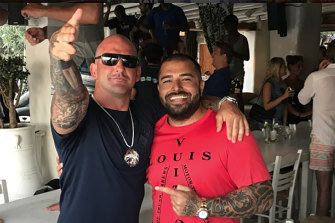 Police launched legal proceedings in March to impose the heavily restrictive orders on Mr Bazzi and two other alleged senior bikies, Tarek Zahed and Mohamed "Mick" Hijazi.
Mr Zahed, the national sergeant-at-arms of the Comancheros, is the only defendant left fighting the police application after the proceedings against Hijazi, a member of the Bandido bikie gang, were dropped when he was imprisoned in July for a firearms offence.
Under the new restrictions on his activities, Mr Bazzi will only be permitted to have one email account and will not be allowed to use 18 communications platforms including Wickr, Protonmail, Telegram and WhatsApp.
He will not be allowed to contact Mr Zahed, Hijazi or anyone he knows to be a Comanchero member and cannot wear bikie "colours" – the vest or clothing bearing gang logos, rank and other details – and jewellery bearing the "1%" slogan commonly used by bikie gang members.
He can keep a Harley-Davidson he owns and can use social media platform Instagram but cannot post images of bikie insignia or paraphernalia.
Reserving his full reasons for being satisfied the order could be made, Supreme Court Justice Geoffrey Bellew imposed the serious crime prevention order for nine months from Wednesday.
Mr Bazzi's solicitor, Sarah Khan, told the Herald her client had been willing to negotiate in good faith and without admissions to the police allegations.
"He has turned a page in his life and he was willing to consent to reasonable orders to show that. The final conditions are very different to what the [NSW Police] Commissioner had originally sought against Mr Bazzi," Ms Khan said.
In an affidavit tendered in the proceedings, a detective attached to the NSW Police gangs squad alleged Mr Bazzi was a Comanchero member of "influence and seniority in the hierarchy" and, alongside the other defendants, was likely to be "involved in future conduct which would constitute an offence" involving drug trafficking, theft, fraud, money laundering, violence, bribery and homicide.
Mr Bazzi has previously been convicted of a drug supply offence and avoided conviction on three other criminal charges in 2004 and 2010.
Mr Bazzi's barrister, Peter Lange, told the court on Wednesday his client objected to police arguments he posed a risk of committing homicide or other serious offences.
The application against Mr Zahed, represented by lawyer Mohammad Chahine, is scheduled for a full hearing in December.
The rarely used serious crime prevention orders were most recently put in place to quell a violent feud between the Hamzy and Alameddine crime families. The only other use of the powers was in 2018 when police intervened in a conflict between the Nomads and Finks bikie gangs.
Location: Australia
Source: smh