National anti-gangs police have raided homes and a business owned by the in-laws of offshore bikie leader Mark Buddle as part of a "relentless" effort targeting his networks and ongoing influence in organised crime in Australia.
Mr Buddle, who has been living in the Middle East and is wanted for questioning over a fatal shooting in 2010, is one of nine men suspected by law enforcement agencies of leading the "Aussie Cartel" earning an estimated $1.5 billion a year bringing illegal drugs onto Australian shores.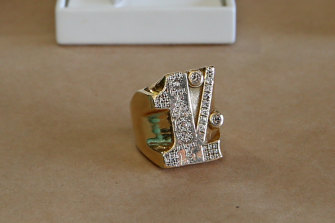 NSW Police and Australian Federal Police detectives, as part of the national anti-gangs squad, executed search warrants at four premises linked to the family of Mr Buddle's partner Mel Ter Wisscha on Wednesday.
The raids took place at homes in Baulkham Hills and Boat Harbour in the Hunter region. The business targeted was the family-owned Flemington Unloading Services that has supplied the Flemington Markets for decades.
The business is run by parents Ernst and Donna Ter Wisscha and their sons Daniel and David, who have recently been embroiled in a legal dispute over the company.
During the searches, police seized documents, cash, electronics, handcuffs, and bikie paraphernalia, including a gold ring thought to belong to Mr Buddle and bearing the "1%" symbol favoured by bikies.
The relatives of Mr Buddle's partner are not facing charges and the Herald does not suggest they have any knowledge of the senior bikie's illegal activities.
NSW Police criminal groups squad commander Detective Superintendent Grant Taylor said investigators had information the family may be in possession of specific material relevant to money laundering and organised crime.
Strike Force Gildi, responsible for the raids, is investigating Comanchero bikie gang activities, with a particular focus on self-proclaimed boss Mr Buddle and his close associates.
"Whilst ever we believe that he is involved in crime that impacts on the state of NSW, we will continue to target him relentlessly," Detective Superintendent Taylor told the Herald.
He said NSW and federal agencies had joined forces to "target him in every which way we can – financially, criminally and anything to do with any untoward activity he is involved in or connected with".
Organised crime figures go to extreme lengths to evade law enforcement, making use of legitimate businesses that often involve family members, Detective Superintendent Taylor said.
"These people can expect to be watched and we will continue to disrupt their activities and scrutinise their financial circumstances, so any illegitimate business interests are stopped."
Mr Taylor said law enforcement efforts, including the sensational Operation Ironside sting using the app An0m, targeting the Comancheros had yielded results, but the gang remained a "formidable" threat.
"Hence law enforcement have them near the highest of priorities for us and it will remain that way until the Comancheros no longer remain an [outlaw motorcycle gang], until they are neutralised," he said.
Officials at the NSW Crime Commission, Australian Criminal Intelligence Commission and Australian Taxation Office are also heavily involved in the efforts to degrade bikie gangs.
Mr Buddle has been based in Dubai since leaving Australia but recently fled to Iraq, according to Australian law enforcement, and is now believed to be on the move again.
He is one of 16 or more people on law enforcement's Australian Priority Organisation Target list, along with notorious drug kingpin Hakan Ayik, who was at the centre of the An0m sting.
Location: Australia
Source: smh