Two alleged associates of the Comanchero bikie gang have been charged with drug and firearm offences after police allegedly found drugs with a potential street value of more than $1 million in raids.
Omar Terkmani, 37, and Ismael Ratel, 23, were stopped in a van in Bankstown and searched by officers with the gangs-focused Raptor Squad on Wednesday as part of operations seeking to disrupt organised crime networks in Sydney.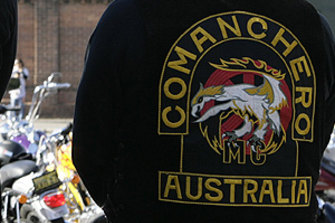 During a search of the vehicle, police allegedly seized methylamphetamine (known as ice in its crystal form), MDMA and cash.
Mr Terkmani and Mr Ratel were arrested and taken to Bankstown police station. Police subsequently raided a home at Punchbowl, where they allegedly found more drugs and a 9mm pistol along with a silencer and ammunition.
Overall, officers seized 1.2 kilograms of ice and 1.08 kilograms of MDMA, police said.
Mr Ratel has been charged with four counts of large commercial drug supply, commercial drug supply, possession of an unauthorised prohibited firearm, possessing an unregistered pistol, possessing ammunition without a licence and breaching a firearm prohibition order.
Mr Terkmani was charged with five counts of prohibited drug supply, dealing with property proceeds of crime, possession of an unauthorised prohibited firearm, possession of an unregistered pistol and possession of ammunition without holding a licence.
Neither man applied for bail in court in Parramatta on Thursday and it was formally refused.
Police have been escalating their targeting of Comanchero networks in recent months, viewing the gang as the most powerful and dangerous of the bikie underworld.
The gang's national sergeant-at-arms, Tarek Zahed, recently left the country and has had a serious crime prevention order imposed on him in the NSW Supreme Court.
The order requires him to turn over any communication device or computer to police for examination and prevents him from associating with other bikies and wearing bikie paraphernalia.
Justice Natalie Adams, in approving the order, noted police evidence that the Comanchero were involved in drug and gun trafficking, with an extensively documented history of violence.
"The defendant's long-standing association with and involvement in the Comanchero OMCG, his seniority within the group and his lengthy history of violent offending leads me to conclude that he is likely to continue to be involved in serious criminal activity," Justice Adams said.
Last month, the Herald revealed Mr Zahed was detained in Lebanon after police sent an alert through global law enforcement body Interpol.
Mr Zahed told a Beirut court he did not want to return to Sydney and was seeking Lebanese citizenship, according to court documents obtained and translated by the Herald.
Police believe Mr Zahed is a close associate of offshore bikie boss Mark Buddle, formerly based in the United Arab Emirates but now thought to be in Lebanon.
"The [Comanchero] group provides support to import and distribute drugs. If Zahed is permitted to enter Lebanon or Turkey, it is very likely that he will commit serious crimes and acts of violence under Comanchero's name," Australian authorities warned in the notice.
Location: Australia
Source: smh